Fabulously French accessories for the home, timeless French country style
Let La Maison Bleue inspire you with ways to add French country style to your home. Take a look at our selection of quality oilcloths and table linen and our sumptious throws, cushions and French home fragrance to add timeless French style to your home. Free delivery on orders over £100* , click and collect now available too.
I stopped by, at Swinfen today-on my way back to London. I purchased a large box frame @ £45 and a few candles. Just wanted to say that we found the girl serving(blonde, ?20 ish) quite She was A ...
Ms Firminger Kent
Our Shop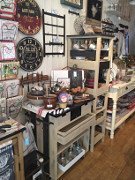 Swinfen, Nr. Lichfield
If you ever find yourself in the West Midlands we would be delighted to see you at OUR FIRST LA MAISON BLEUE SHOP at HEART OF THE COUNTRY VILLAGE, a beautiful collection of exclusive designer shops at Swinfen, Nr. Lichfield.

View map of our Lichfield store
Heart of the Country Village, WS14 9QR
Tel: 01543 481414
Open 10.00 - 5.00 Tues to Sun